-PRICES FOR CUSTOM
SLEEPERKID'S WORLD
PRO WRESTLING RING
MATCHES-
UPDATED 12/8/2011!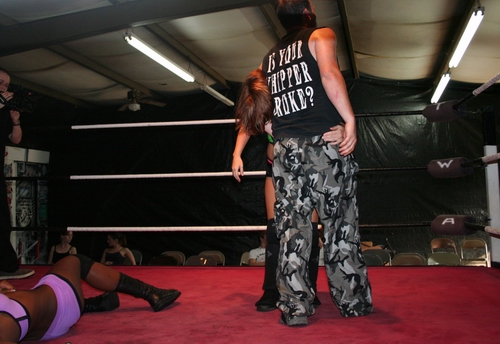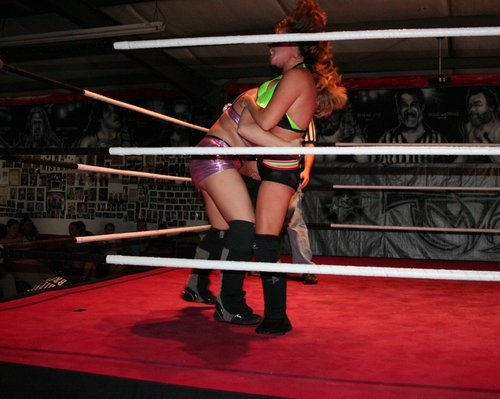 The new SKW ring room (as seen in above) contains a full-size 16 x 16 foot ring. There is also ample space for pro-style promos, outside-the-ring action, and hardcore style anywhere-counts pinfall customs!
The ring is extremely well-lit and has more than enough space to allow the girls to bring your custom to life!
---------------------------------------------------------------------------
READ BELOW BEFORE PLACING YOUR ORDER!

Well, folks...unlike the many video companies already out there, we at Sleeperkid's World are NOT quite yet swarming with high priced, silicone-injected wrestling "models", nor are we fully equipped with rings, mats, and/or gymnasium access. What we DO have, however, is a tightly-knit group of friends and wrestlers that want to make YOUR special requests and wrestling "dreams" come true...at a much more reasonable price than most video producers, and with 5 times the attention to detail and performance.

We only allow a wrestler to receive custom requests when we are CERTAIN that she/he has the ability to FULLY portray whatever scenario is presented to him/her with the highest level of realism available. In other words, punches are delivered as hard as possible (while still maintaining an appropriate level of safety), and all holds/moves are applied correctly and with a considerable amount of pressure. All reactions to these holds/moves are as realistic as YOU want them to be in your script (some folks, as we all know, prefer different "reactions"). The female wrestlers available are, in our opinion, some of the best we've ever seen, and although they are limited in quantity and availability now, we hope to increase our numbers soon!
PRICING FOR CUSTOM RING MATCHES

THE RULES:

NO OFF-THE-TOP-ROPE HIGH-FLYING MOVES, PLEASE...OUR GIRLS ARE ATHLETIC AND UP TO MANY A CHALLENGE, BUT THEY ARE NOT FULL PROFESSIONAL WRESTLERS! PLEASE KEEP THE ACTION RESTRICTED TO ON-THE-MAT POWER MOVES, SUBMISSION HOLDS, CORNER WORK, ETC.

NO NUDITY OR EROTIC MATCHES WILL BE SHOT!
GENERAL ATTIRE RANGES FROM REGULAR STREET CLOTHING TO CONSERVATIVE 2 PIECE OUTFITS. NO LINGERIE, PANTIES, ETC WILL BE USED!!

We live for the action/KOs/combat, and that's what we deal in. We leave the rest for those who need to replace quality with porn. Alternative forms of KOs (chloroform, gas, etc) are welcome. Nothing too physically extreme, mysoginistic, degrading, violent, or sexual, please.
--------------------------------------
CUSTOM VIDEOS/PHOTOSETS
(Time limit on your custom requests: 30-35 minutes. All videos/pix will come in a fully edited DOWNLOAD format)
As you can see, we've removed the exact pricing for custom clips and have instead replaced them with the following custom rules/guidelines. PLEASE read carefully before submitting your script(s)!!!
1) Send a basic outline for your custom to iamsleeperkid@yahoo.com

2) Upon approval, we will reply and ask for a more detailed script (should you choose to use one...otherwise we will go with the basic request!).

3) The price of your custom will depend heavily on the amount of performers, work, detail, attire/set changes, moves, & special sound/visual FX that you request. The easier your custom is for us to produce, the lower the overall custom price will be.
4) Custom clips range from 10-12 minutes in length. Full length videos will be a maximum of 30-35 minutes in length. Photoset sizes will depend on the final script's content and a pre-determined amount agreed on by the customer.
We hope that makes things a bit simpler for you guys...and we can't wait to get your scripts!!!
(payment options below)

ADDITIONAL NOTE: If your custom match, when filmed, meets our standards of excellence in terms of theme/action, we WILL include it for sale to the general public!
----------------------------------------


ORDERING INFORMATION
(ALL videos and photo CDs require a shipping and handling fee of $5.00 within the U.S.!
$10.00 outside the U.S.!)

Snail Mail Orders
To pay by money order, please email us for ordering instructions at
POSTAL MONEY ORDERS ONLY ACCEPTED WITHIN THE U.S.
PAYPAL INSTRUCTIONS
To order via PAYPAL, click on the button BELOW:

THEN....
- Set up a Paypal account if you do not already have one
- Click on SEND MONEY
- Under "recipient", use the following email address: clairesanti@hotmail.com
- Enter the correct amount for the video/custom you are ordering.
-In the message area, please state which video(s)/custom(s) you are paying for, as well as your mailing address!
-Send your payment!
PLEASE ALLOW 2-3 weeks for delivery!
______________________________
CLICK HERE FOR THE CURRENT SKW ROSTER!
______________________________
CLICK HERE FOR PRICING ON CUSTOM SKW MAT-ROOM VIDEOS!
______________________________